I am finished my Christmas shopping. To which I have to say....
It's definitely a great thing to be able to do: get the shopping with over before December. OK, I finished on December 3, not Nov. 30 but it was quite close indeed! I understand some people need a Christmas bonus, or have to go week, pay by pa. Anyway, this is my winter / Christmas post....
For starters, I'm going to list off the movies I watch every Christmas....
Die Hard (Takes place on Christmas Eve)
Muppet Family Christmas (The one with the Sesame St gang, and the Fraggles)
Narnia (the first film)
Christmas Carol (1951 black and white)
Miracle on 34th St
It's a Wonderful Life
Now, for the playlist for music....
Narnia soundtrack
"Harry in Winter" - Goblet of Fire soundtrack
"Gordric's Hollow Graveyard" - Deathly Hallows: Part 1 soundtrack
"Christmas Tide" - The Tudors Ssn 3 soundtrack
Game of Thrones soundtracks (anything related to House Stark or the Night's Watch)
Trans Siberian Orchestra Christmas Trilogy
If on a Winter's Night by Sting
Charlie Brown Christmas soundtrack
"River" (feat Corinne Bailey Rae) off of River by Herbie Hancock
The OC Mix 3: Have a Very Merry Christmas
And finally, things I "need" every Christmas....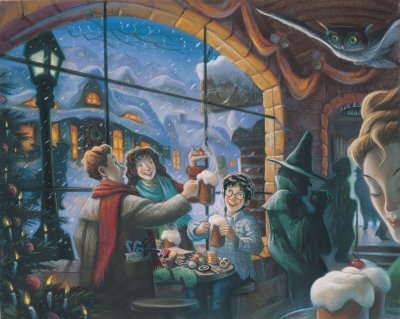 Eggnog...better than regular nog.
President's Choice Candy Cane ice cream
Terry'd (dark) Chocolate Orange
Mom's baking! Swedish tea ring, shortbread cookies, chippit dreams,, nibble bait
Cranberry Canada Dry Ginger Ale
Christmas Turkey dinner!!
But most importantly - quality and relaxing time with loved ones...friends, family and both.