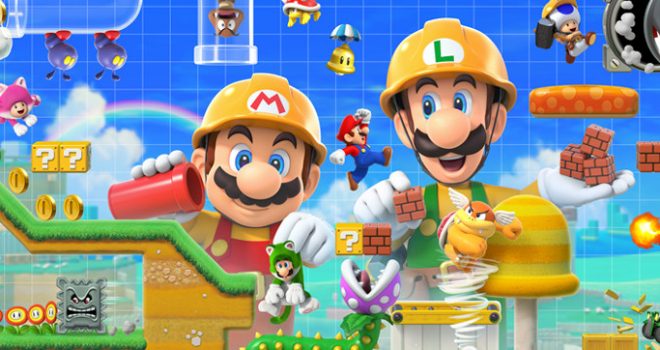 Many fans were hoping that the Switch would get
Mario Maker
ported over to it, like so many other titles from the wii u (as of now, the only titles that remain exclusive to the wii u are:
Mario 3D World, Xenoblade X,
and
Pikmin 3
- I may be missing 1 or 2). It was announced that Nintendo is making
Mario Maker 2
.
When I was a kid, I used to draw Mario quite a bit. I often enjoyed sketching a 'screenshot' of a made-up level, almost Bob Ross style. I used to get quite creative: "What if I make this spiny green?? The regualr ones are red, and there's red and green koopas, so....oh! and how would it behave on-screen?" That was one such example I would enjoy thinking of.
When
Mario Maker
came out, i was able to relieve and fulfill that aspect of my life, almost to its fullest. As great as the game was, it lacked a few minor elements that I would have loved to seen included, so I could make my levels more varied, and recreate some from
Mario 1
and
Mario 3
- thinking specifically of slopes and water that you can jump out of (ie, not be restricted to fully underwater.)
This post is not only to inform you that
Mario Maker 2
is coming, but I'm going to re-watch the trailer, and commentate on what
Mario Maker 2
looks to be adding (base donly on the trailer) as well as a few parting thoughts ("I hope
this
is included."
In the words of Mario, "heeere we gooo.....!"
- from the looks of things, the game is handled (exclusively??) in hand-held mode
- there are 'wheels': once the game enters 'maker mode', there's a circle labelled 'enemies' and there are some selections that can be made. There is also an "items" circle, and a "ground" circle; which includes 2 types of slopes.
- we get slopes!! I wonder how that will factor into
Mario 1
style, which didn't have slopes....?
- There are elements from
Mario 3D World
(in side-scroller,not 3D environment)
- The sun from
Mario 3
(which can be killed with a koopa shell in the deserve level) is here. Again, I wonder how it'll factor into games that did not have it in them.
- The section that shows the sun, shows a desert background. Can we change background styles....?
- The 'caterpillar' blocks from
Mario World
's castle levels are in it
- again with the background change: we see a forest-y backdrop and Mario and Yoshi swimming...but...the can jump out of the water! Also, it looks as if the water level can change. You could never jump out of the water in
Mario 1
, so I'm curious about that game style with the elements.
- the "On/Of" blocks from
Mario World
are here
- it looks like the auto-scroll can be adjusted, in terms of direction and movement. Play the airship levels from
Mario 3
to see what I mean.
- there looks to be new enemies: puffer fish and blue/purple caterpillars. (I think it said 'ant trooper')
-
Mario 3D World
is a 'game style' (in 2D mode), I wonder what the mechanics will be like...?
- climbable bell-trees from
Mario 3D World
are here
- the Cat Bell item is here (can that 'work' in other game styles??)
- Piranha crawlers (may may be wrong, but the type of piranha plant that's pink and moves along its stem) from
Mario World 3D
is here (looking forward tos eeing that enemy with other game styles. it's 'length' and movement can be adjusted
- blocks that extend as you hit them are included (marked with a "!")
- the clear pipes from
Mario 3D World
are included
- in the
Mario 3D World
style, you can Banzai Bills come from the background into the foregound
- parachutes can be added to enemies. Also, in that same screen, there's a regular pipe that's not green, but red/pink instead....can pipe colours be changed??
- There looks to be different colour Yoshis! Wonder what the colours are, as well as if they have special abilities? It also looks that the 'acid' from some of the jungle levels is included.
- Boom-Boom is included as an enemy! Looking forward to seeing his
Mario 1
and
Mario World
sprites. Not to mention how he may behave.
- Banzai Bills are included (I didn't see a Bill Blaster....)
Now for my thoughts / hopes:
- can adjustments be made on various level types? For instance for a 'gras' level, can we choose between day and night?
- it looks like you can change the colours of pipes. That, and the different level themes will allow me to create more accurate recreations of existing Mario levels
-can we make "worlds?" Perhaps even overworld maps??
- more enemies: I would love Fire Bros., Boomerang Bros., etc added
So that basically concludes my thoughts on the upcoming title at this point. We shall what else gets revealed closer to the release date.