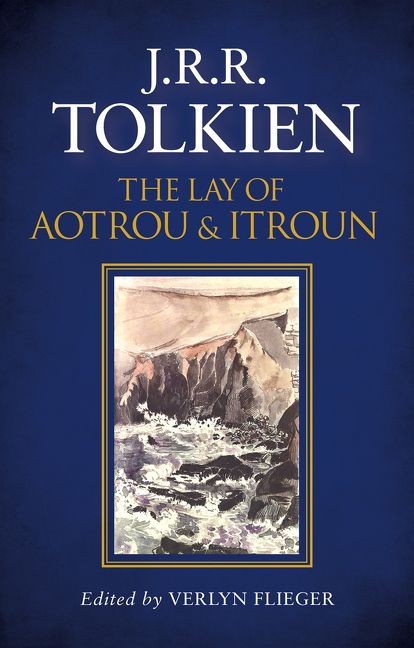 Today sees the re-publication of a Tolkien book that has been out of print for around 70 years – The Lay of Aortou and Itroun.

The book is edited by Verlyn Flieger, as Christopher Tolkien was likely occupied with Beren and Luthien (which is set to arrive May 2017.) The book will be 128 pages. It is being published in the ebook and hardback formats. At present time, there is no word or listing of a possible deluxe edition coming. My guess is, if one were to exist, it would be published in the deluxe format (slipcased, etc) next year, likely after Beren and Luthien, in the fall or winter (Aug – Dec). I'm going to be wait a bit to get this one. If a deluxe edition comes along, then I shall deem Aotrou & Itroun worthy of owning a physical copy and add it 'to the shelf'. If no deluxe edition is to exist, then I'll get the ebook to save space for other books. (Remember, the Tolkien books I have 'on the shelf' mirror which titles have a deluxe edition available.)

The title page officially calls the book: "The Lay of Aotrou and Itroun together with The Corrigan Poems." (sort of like how Unfinished Tales is actually "Unfinished Tales of Numenor and Middle-earth".)

"Unavailable for more than 70 years, this early but important work is published for the first time with Tolkien's 'Corrigan' poems and other supporting material, including a prefatory note by Christopher Tolkien.
Set 'In Britain's land beyond the seas' during the Age of Chivalry, The Lay of Aotrou and Itroun tells of a childless Breton Lord and Lady (the 'Aotrou' and 'Itroun' of the title) and the tragedy that befalls them when Aotrou seeks to remedy their situation with the aid of a magic potion obtained from a corrigan, or malevolent fairy. When the potion succeeds and Itroun bears twins, the corrigan returns seeking her fee, and Aotrou is forced to choose between betraying his marriage and losing his life.
Coming from the darker side of J.R.R. Tolkien's imagination, The Lay of Aotrou and Itroun, together with the two shorter 'Corrigan' poems that lead up to it and which are also included, was the outcome of a comparatively short but intense period in Tolkien's life when he was deeply engaged with Celtic, and particularly Breton, myth and legend.
Originally written in 1930 and long out of print, this early but seminal work is an important addition to the non-Middle-earth portion of his canon and should be set alongside Tolkien's other retellings of myth and legend, The Legend of Sigurd and Gudrún, The Fall of Arthur and The Story of Kullervo. Like these works, it belongs to a small but important corpus of his ventures into 'real-world' mythologies, each of which in its own way would be a formative influence on his own legendarium."