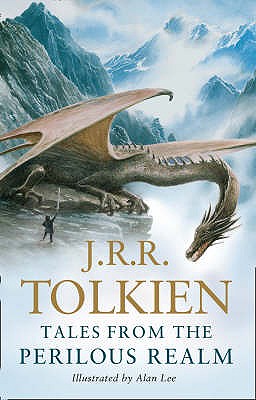 Time for another Tolkien Tuesday post!

Moving right along my shelf…next up is Tales From the Perilous Realm. This book is actually a compilation of shorter material by Tolkien (one of which relates to The Lord of the Rings / Middle-earth). All of these stories have appeared elsewhere before, but this is the first time that they have all been published in one book. Plus, it is illustrated in pencil throughout by Alan Lee. This book also 'fits in' with The Hobbit quite well. By that I mean it's written in the same 'tone' as The Hobbit – very 'whimsical'.

So, onto my copy.

The dustjacket is made of a paper-y / matte type material, and features a cover illustration by Alan Lee; I believe from Farmer Giles. Remember earlier how I mentioned taking care with this type of material and stickers? Yeah, it happened to this book sadly. Luckily, I was able to 'reapply' the sticker. I'd rather have a sticker on a book, then a messy / destroyed portion. (some other books I have here and there I left stickers on avoiding that issue) Removing it, the book itself is blue, with Tolkien's logo, and the book title embossed in gold on the spine. The table of contents, as one would expect, lists everything in the book. As mentioned above, there are also pencil sketch illustrations by Alan Lee throughout the book.

Why did I get it: well, it was the next main Tolkien book published by Harper Collins, so of course! I admit, it (mostly) not being part of Middle-earth did not initially peak my interest, as well as the fact that it's a 'children's book'. That changed though. It 'pairs' quite well with the other Tolkien books in design style, and dimensions (and in tone, The Hobbit.)

Who would I recommend this edition to: anyone who has been 'following' my Tolkien Tuesday post series covering my editions! But ideally, anyone wanting a copy of this book in hardback. Due it to being published in 2008, there aren't many (if any) editions of this book, beyond ebook, paperback, hardback and deluxe.

"Should I wait for a better one?" : I don't think there will be a better edition coming out anytime soon, so no. Especially considering that this is a collection, masking deciding on an anniversary tricky (unless we're going by '2008' that is…)

Overall: Tales From the Perilous Realm is sort of a hidden gem that gets to shine by way of this release. It pairs quite well with The Hobbit (no matter what version you have, but in particular if you own any of these in hardback: 'classic' (art by Tolkien), illustrated by Alan Lee, or illustrated by Jemima Catlin). Also, the book goes well 'on the shelf' with the other Tolkien books, both Middle-earth and non-Middle-earth.

Whether for yourself or for someone who really liked The Hobbit, this is a recommended title (much like the others but this one deserves mention due to it being lesser known.)
Special mention: There is also a somewhat similar publication of the contents published recently called "The Tolkien Treasury." It is a box set of the tales as separate books, and they are expanded. The ISBN for that is: 9780008116644.