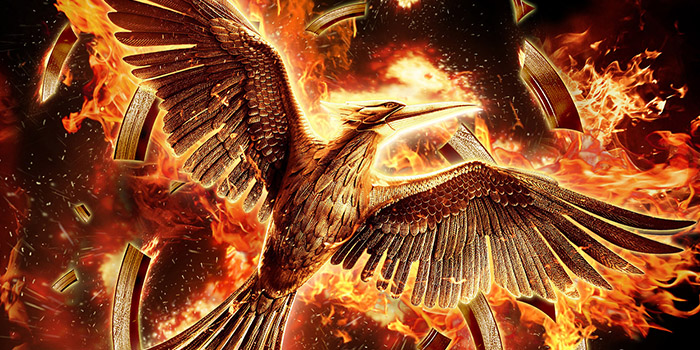 Just last night, I saw the final 'Hunger Games' film,
Mockingjay: Part 2
. Here is my [spoiler free] review.
Hard to believe that we already at the end of this series! One thing I've got to say, is that I've felt that the Hunger Games series has always been consistent in quality over the course of the four films. There are o entries that are considerably stronger or weaker than others.
This film, has more action than
Part 1
did...understandably so, considering that
Part 1
(and, to a lesser degree,
Catching Fire
) were set ups and build ups to get things moving towards the finale.
In typical Hunger Games fashion, there are a few twists and turns along the way (which I'm thankful were not altered in transition from book to screen.). These films may not have been all that difficult to adapt, in terms of staying close to the source material; though I am glad not much (over the course of the series I did not notice any glaring omissions or changes.
Deathly Hallows: Part 2
was notably different than the book in certain parts. Heck, even
The Return of the King
was vastly different than the novel. In that regard,
Mockingjay: Part 2
(and The Hunger Games series as a whole) have stuck pretty close to the source.
Part 1
and
Part 2
could have been one single release, tough edits and omissions may have been neccessary in that. While
Part 1
the 'split' may seem unneccesary (
Part 2
opens where
Part 1
ends. They waste no time here), it's with
Part 2
that you appreciate the split; even though the film is a bit slow in spots.
The Hunger Games is not the best film series out there. I consider it
one
of the best. It's no Harry Potter, but it's definitely some great YA material, for those interested in that. Again, I am surprised that they were able to make the films surprisngly good, when most book adaptions are not too good, especially those targeted at teenagers.
A big huge kudos and tip-of-the-hat to Jennifer Lawrence for being Katniss over the course of the films. Were it not for her, I doubt these films would not have been half as good as they are.
Like every other film in the series, I give
Mockingjay: Part 2
, the finale, a well rounded
8 / 10


I'm not sure what people were expecting, or what the performance / opening was, but I was looking for a film to both stick close to the book (while being a good film) and close out the series, and in that regard, I was not let down. Just remember - if you are a purist, then the moment you find out they are making a film out of your favourite book (or series), than by making it into a film, they aren't following the book. You can't 'film a book' word for word, period for period.
And, even though it may be 'mathematically impossible', I give The Hunger Games film series as a whole,
8.5 / 10
. The overall series, is a bullseye.
[I had a peek on Amazon to see if this film, and the complete series box, set were up for pre-order. They both are. Since the 'official details' have yet to be revealed, the box set [at this point] looks disappointing and cheap. When I purchase the films on blu-ray, I will most likely go for all of them individually, but in one purchase.]