J.R.R. Tolkien has appealed to a large number of people over the decades, as well as various types of audiences. He has created his own world and tales of Middle-earth, Numenor, Beleriand....he has translated and composed epic poetry, as well.
The Hobbit was written (originally) as a children's book, however children and younger readers were not the only ones to enjoy that story. Tolkien also wrote other tales targeted at younger readers and children. Some of these you may have heard of, some of them maybe not....but the kids will love them.
The following titles are in a 'pocket' format, and are intended for children or younger readers...or, of course, the Tolkien enthusiast /collector.
The one that started it all...it may not be the first piece of Middle-earth Tolkien wrote, but it was the first published. Here it is, in a pocket format. Please note, that other editions of The Hobbit may be more suitable for children or younger readers (such as Jemima Catlin's newly illustrated edition, which is great for 'story time') however I am including this one in the post because it matches the other books in format to follow.
Bilbo Baggins enjoys a quiet and contented life, with no desire to travel far from the comforts of home; then one day the wizard Gandalf and a band of dwarves arrive unexpectedly and enlist his services – as a burglar – on a dangerous expedition to raid the treasure-hoard of Smaug the dragon. Bilbo's life is never to be the same again.
The Hobbit became an instant success when it was first published in 1937, and 75 years later Tolkien's epic tale of elves, dwarves, trolls, goblins, myth, magic and adventure, with its reluctant hero Bilbo Baggins, has lost none of its appeal.
Now, for the first time, the classic hardback edition is available in a one-off special pocket-sized edition. Featuring the distinctive cover illustration painted by Tolkien himself, plus his own drawings in the book, this edition will be the perfect gift for little Hobbits everywhere!
The Hobbit is a bestseller and timeless classic, featuring the adventures of Bilbo Baggins in Middle-earth. Bilbo Baggins enjoys a quiet and contented life, with no desire to travel far from the comforts of home; then one day the wizard Gandalf and a band of dwarves arrive unexpectedly and enlist his services – as a burglar – on a dangerous expedition to raid the treasure-hoard of Smaug the dragon. Bilbo's life is never to be the same again.
Seldom has any book been so widely read and loved as J. R.R. Tolkien's classic tale, The Hobbit. Since its first publication in 1937 it has remained in print to delight each new generation of readers all over the world, and its hero, Bilbo Baggins, has taken his place among the ranks of the immortals of fiction.
While on holiday in 1925, four-year-old Michael Tolkien lost his beloved toy dog on the beach at Filey in Yorkshire. To console him, his father, J.R.R.Tolkien, improvised a story about Rover, a real dog who is magically transformed into a toy and is forced to seek out the wizard who wronged him in order to be returned to normal.
This charming tale, peopled by a sand-sorcerer and a terrible dragon, by the king of the sea and the Man-in-the-Moon, was Tolkien's first full-length children's book, written before The Hobbit. Now, nearly 90 years later, the adventures of Rover – or, for reasons that become clear in the story, 'Roverandom' – are published in this delightful pocket hardback edition. Rich in wit and wordplay, Roverandom is edited and introduced by Tolkien experts Christina Scull and Wayne G. Hammond, and includes Tolkien's own delightful illustrations.
Farmer Giles of Ham did not look like a hero. He was fat and red-bearded and enjoyed a slow, comfortable life.
Then one day a rather deaf and short-sighted giant blundered on to his land. More by luck than skill, Farmer Giles managed to scare him away. The people of the village cheered: Farmer Giles was a hero.
His reputation spread far and wide across the kingdom. So it was natural that when the dragon Chrysophylax visited the area it was Farmer Giles who was expected to do battle with it!
THE ADVENTURES OF TOM BOMBADIL
'Here is something that no devotee of the Hobbit epic can afford to miss, while awaiting a further instalment of the history of these fascinating people – a selection [of verses] offered as an 'interim report' to those interested in Hobbit-lore, and to any others who may find amusement in this mixed bag of old confections.'
One of the most intriguing characters in The Lord of the Rings, the amusing and enigmatic Tom Bombadil, also appears in verses said to have been written by Hobbits and preserved in the 'Red Book' with stories of Bilbo and Frodo Baggins and their friends. The Adventures of Tom Bombadil collects these and other poems, mainly concerned with legends and jests of the Shire at the end of the Third Age.
This special edition has been expanded to include earlier versions of some of Tolkien's poems, a fragment of a prose story with Tom Bombadil, and comprehensive notes by acclaimed Tolkien scholars Christina Scull and Wayne G. Hammond.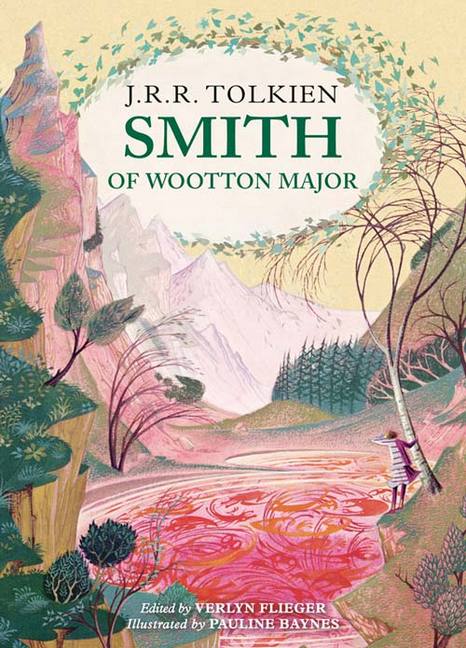 What began as a preface to The Golden Key by George MacDonald eventually grew into this charming short story, so named by Tolkien to suggest an early work by P.G. Wodehouse. Composed almost a decade after The Lord of the Rings, and when his lifelong occupation with the 'Silmarillion' was winding down, Smith of Wootton Major was the product of ripened experience and reflection. It was published in 1967 as a small hardback, complete with charming black and white illustrations by Pauline Baynes, and would be the last work of fiction to be published in Tolkien's own lifetime.
Now, almost 50 years on, this enchanting tale of a wanderer who finds his way into the perilous realm of Faery is being published once again as a pocket hardback. Contained here are many intriguing links to the world of Middle-earth, as well as to Tolkien's other tales, and this new edition is enhanced with a facsimile of the illustrated first edition, a manuscript of Tolkien's early draft of the story, notes and an alternate ending, and a lengthy essay on the nature of Faery.
Finally, since I am talking about Tolkien and the younger readers / children, these last two are not in the pocket format. First, one for Christmas / Holiday reading:
LETTERS FROM FARTHER CHRISTMAS
This classic festive book of Tolkien's amazing Father Christmas letters written to his children between the 1920s and the 1940s has been reworked into a new and attractive edition. It contains brand new high-quality digital reproductions of his amazing letters and pictures, including a number them that have never been printed before.
'My dear children, I am more shaky than usual this year. The North Polar Bear's fault. It was the biggest bang in the world, and the most monstrous firework there has ever been. It turned the North Pole black!'
Every December an envelope bearing a stamp from the North Pole would arrive for J. R. R. Tolkien's children. Inside would be a letter in strange spidery handwriting and a beautiful coloured drawing or some sketches. The letters were from Father Christmas.
They told wonderful tales of life at the North Pole:
• How all the reindeer got loose and scattered presents all over the place.
• How the accident-prone Polar Bear climbed the North Pole and fell through the roof of Father Christmas's house into the dining-room
• How he broke the Moon into four pieces and made the Man in it fall into the back garden
• How there were wars with the troublesome horde of goblins who lived in the caves beneath the house!
Sometimes the Polar Bear would scrawl a note, and sometimes Ilbereth the Elf would write in his elegant flowing script, adding yet more life and humour to the stories. From the first note to Tolkien's eldest son in 1920 to the final poignant letter to his daughter in 1943, this book collects all the remarkable letters and pictures in one enchanting edition. No reader, young or old, can fail to be charmed by the inventiveness of Tolkien's Letters from Father Christmas.
Professor J.R.R. Tolkien invented and illustrated the book of Mr Bliss's adventures for his own children when they were very young. The book was handwritten with lots of detailed and uproarious colour pictures.
This is a complete and highly imaginative tale of eccentricity. Mr Bliss, a man notable for his immensely tall hats and for the girabbit in his garden, takes the whimsical decision to buy a motor car. But his first drive to visit friends quickly becomes a catalogue of disasters. Some of these could be blamed on Mr Bliss's style of driving, but even he could not anticipate being hijacked by three bears. As for what happened next – the readers, whether young or old, will want to discover for themselves.
Redesigned using new archival scans of Tolkien's original drawings, MR BLISS is presented for the first time in a conventional trade format, sure to delight Tolkien fans of all ages.