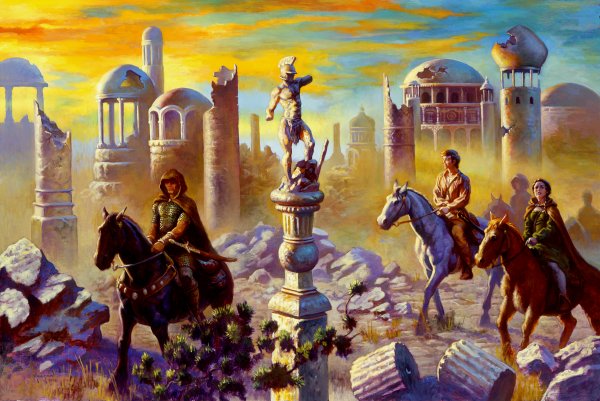 It's not exactly new news, but The Wheel of Time series is being re-released in paperback.
Some of the covers are better than Darrell K. Sweet's art, some are worse, but the series will be re-issued. Heck, some of the books already have been.
They are in paperback (trade actually, the size is between 'mass market' and...well, the one that is the same size of hardcover but paperback instead.) The books 'open' better, are larger (which is good for the maps etc.) So if you want a decent copy, go for these. Good format for new readers. If you want the books cheap, or could care less about format, there's the 'reg' editions that are standard or the e-book versions.
Not all the books are out yet in this new format. As such, I will update this post once they are given a date, ISBN, etc.
Here's the ISBNs for the books, so use these to search for them:
UPDATE Oct. 1 2012: details added for 'Crown of Swords'
UPDATE March 2013 : details added for 'Path of Daggers'.
UPDATE May 2013: details added for 'Winter's Heart'
UPDATE October 2013: details added for 'Crossroads of Twilight'
UPDATE Jan 2014: details added for 'Knife of Dreams'
UPDATE June 2014: details added for 'The Gathering Storm'
UPDATE September 2014: details added for 'Towers of Midnight'

Final UPDATE January 2015: details added for 'Memory of Light'

Actual Final Update: January 2020: details added for 'The Companion' and for 'New Spring.' Now the collection will be completed.

All books in the series now have ISBN's and publication dates.
Eye of the World (Book 1) :
Fires of Heaven (Book 5) : NOV 13 2012
Lord of Chaos (Book 6) : DEC 11 2012
Crown of Swords (Book 7) : JUNE 18 2013
Path of Daggers (Book 8) : NOVEMBER 12 2013
Winter's Heart (Book 9) : MARCH 25 2014
ISBN-10:
0765337800
ISBN-13: 9780765337801
Crossroads of Twilight (Book 10) :JUNE 3 2014
ISBN - 10: 0765337819
ISBN - 13: 9780765337818
Knife of Dreams (Book 11) : OCTOBER 14, 2014
Gathering Storm (Book 12) :MARCH 31, 2015
ISBN - 10: 0765337835
ISBN - 13: 9780765337832
Towers of Midnight (Book 13) : JUNE 9, 2015
ISBN - 10: 0765337843
ISBN - 13: 9780765337849
Memory of Light (Book 14) : OCTOBER 27, 2015
ISBN - 13: 9780765337856

New Spring : AUGUST 18, 2020
ISBN:
9781250774361

The Wheel of Time Companion :
ISBN:
9780765314628