There is another edition of The Hobbit out there. Which is always a good thing when it comes to gift giving occasions such as Christmas. Especially for those that consider The Hobbit to be a 'children's book.'
Last September, the newly illustrated edition of The Hobbit, with artwork by Jemima Catlin was released. As nice edition as it is, I am glad we are still given selection and choice. You can choose an edition with Tolkien's artwork (and cover), there's the Alan Lee edition, and now there's this one. I myself prefer Alan Lee's or Tolkien's versions of The Hobbit, but that does not affect my opinion or liking of the artwork itself. I would gladly pick up a 'poster collection' of this artwork if it was ever released, or a few prints. Unfortunately, I missed out on the 2014 calendar, which is always a great source for Tolkien art. [The annual 'Tolkien calendar' I mean.]
Anyway, Catlin's Hobbit will be released in paperback next year, so I decided to give her her own spotlight in this blog.
Her artwork is reminiscent to the style of Pauline Baynes, where the world which is illustrated is shown as a wonder, magical, light-hearted and of a 'fairy tale' nature.
Also, the manner in which the artwork is integrated into the text seems like a fairy tale, or a 'story book', and, to me, definitely suitable for 'children' or 'younger readers' [parents or those who know or have younger fantasy fans in the family, take note.] Amazon UK has some images on their page which I will show you below to further explain by example.
Definitely attractive and appealing. I just hope that the other editions of The Hobbit do not go out of print or are replaced by this one, for those who are not a fan of this art, want selection, or would like a 'grittier' edition of the book. nevertheless, if Catlin's editions remain in print for the years, like we have for Alan Lee's and Tolkien's original, some nieces and nephews may just get themselves a copy down the road....
Speaking of editions, the various formats and ISBNs are listed below.
Deluxe edition:
9780007497911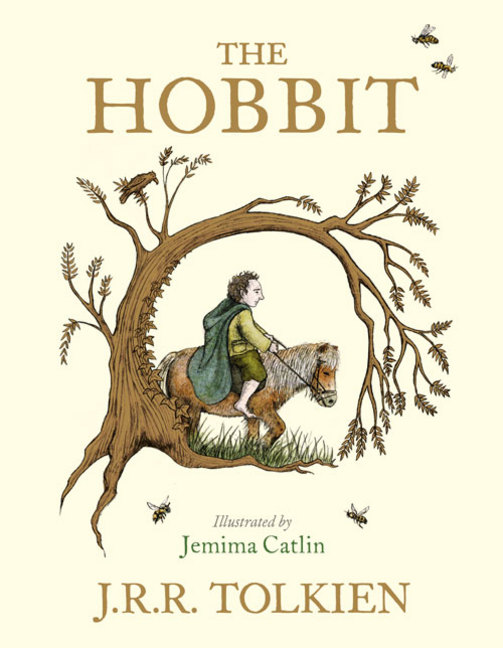 Paperback [can be pre-ordered]:

9780007497935
The first new illustrated edition of The Hobbit for more than 15 years contains 150 brand new colour illustrations. Artist Jemima Catlin's charming and lively interpretation brings Tolkien's beloved characters to life in a way that will entice and entertain a new generation of readers.