In preparation of Zack Snyder's version of Justice Leauge actually (finally?) coming into being, I wanted to re-visit the first two entries of the DC universe ahead of time - which are also his movies - Man of Steel, and Batman v Superman (or I'll sometimes refer to it by it's subtitle, Dawn of Justice).

Before starting this post, however, I want to express this: I both love films, and comic books. Sometimes, finding that 'happy medium' between the two can be tricky.

The other is, I'm essentially a "DC". (remember that parody video that spoofed the 'Are You an Apple or a PC' commercial titled 'Are You a Marvel or a DC?') I've always, overall, liked DC more of the two - better stories in the comics, better animated material. However, the Marvel Cinematic Universe (MCU) is unquestionably good when it came to the realm of live action content. With a few minor exceptions, from 2008 with Iron Man to 2019's Avengers: Endgame, we've had stellar performances (by way of excellent casting) and some overall consistently great films that tied in with one another - perhaps, in some cases, too much so. I understand that's a "cinematic universe", however at times I've felt 'this movie should be good on its own, and not depend on the fact that another movie is going to come out.' We got our dreams fulfilled when 2012's Avengers actually came to be. Then, with Avengers: Infinity War and Avengers: Endgame, that was the icing on the cake - having everyone appear.

OK, with that out of the way, let's first examine.....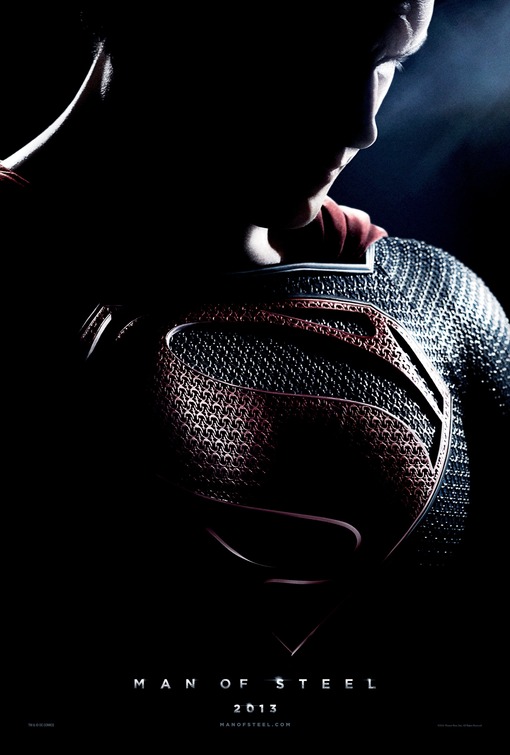 Man of Steel. Superman was the first major superhero, debuting as far back as 1938. The character has been through a lot since then. Most people know Superman as Christopher Reeve. He was a great Superman, and that was a very good movie....for its time. However great the casting and performances were, the Reeve films were camp-fests on par with Adam West as Batman, and Lynda Carter's Wonder Woman (hey, there's a Justice League right there....). Some of my say "that's blasphemy!" or "crazy!". But it's true. In the comics, does Superman ever spin to drill through the ground? Not that I ever saw. In the comics, does he ever fly around the Earth fast enough to 'rewind' time? Don't remember. Also, let's not forget the 'plastic S' that he throws randomly in Superman II (I forget if that's also in the Donner version). My point is, none of those are what his powers are. And, to me - as a comic book fan - those movies suffered because of that.

Superman needed to be more serious - not TOO serious, but MORE serious. I mean, until Man of Steel, live-action Superman has never thrown a punch that I can think of.

I wouldn't consider myself a Zack Snyder "fan", though I'd seen a few of his movies. 300 was a near-perfect adaptation of the graphic novel (the original artwork could essentially be storyboards), and Watchmen was pretty decent overall. When Snyder was announced as being the director of Man of Steel, I thought "....interesting! Not the greatest track record, but we'll see! His style would certainly fit." And it did. It really did.

So the movie itself is a Superman origin story, as well as the one that 'launches' a cinematic universe (DC's "version" of Iron Man from 2008, in other words). We get to see the fate of Krypton by way of a prologue sequence, then it jumps to adult Superman, with flashbacks to moments from his past (kind of like in Batman Begins). Also, having Zod as the main villain ties everything up, story-wise. I'd never considered the fact of how well having General Zod as THE villain in the same movie we get to see the Krypton sequences actually works. And while he's Superman's arch-nemesis, I'm glad we didn't Lex Luthor right away. We had Gene Hackman. We had Kevin Spacey. Let's give Lex a rest for a little bit, shall we?

The film had the ingredients of being great. However, there are a few elements holding it back from masterpiece level. Namely, it was a bit TOO dark. Some of the Superman stories are dark, or have dark elements, but more 'light' would've been good. Actually, if Man of Steel were made with the same tone and mood as the Joss Whedon-finished version of Justice League, it would've been a bit better.

The other issue, is the use of CGI, and how much destruction there is.

I get that this film is very CGI heavy (how else can you show Superman's powers and his true strength in a convincing way?). The only issues with the CGI (and, possibly, the destruction level) is how EASILY things can get moved around. I've always thought that Smallville was the perfect way in live action to demonstrate how much effort it would take to life something, even if you had super powers.

As to the destruction - well, what do you think would REALLY happen if Superman got into a brawl with another super-powered being? That being said, I found the fight scenes give them too MUCH power, and/or buildings being a little TOO fragile.

Then, there's the controversy of how Superman ended the threat of Zod. I was surprised, as one of the main 'rules' of DC heroes is that they don't kill. Here, it goes more like "Superman doesn't kill....unless he has no other choice." That being said, they could've come up with a few other ways on how to end the threat of Zod.

Overall, I enjoyed Man of Steel. It may not be a cinematic masterpiece like Nolan's Batman Trilogy, or some of the MCU movies, but it was still good. I was glad to finally see Superman punch someone, and fight someone, like he does in the comics. A very solid 7 - 7.5 / 10 movie.

Next up, I'm going to examine....




Batman v Superman: Dawn of Justice as it's full title is. We get introduced to this cinematic universe's version of Batman! I gotta say, Ben Affleck 2.0 (the comeback version that has done such great work like The Town and Argo) was perfectly suited as both Bruce Wayne, and as Batman. I'm say saying this, because I'm a lover of both film and comics; and everything to do with Batman in this film feels like a comic book. Nolan opted to show us how hero COULD exist in real life, this version of Batman takes it one step a little further and 'balances' comic book accuracy with how something appears on film. Not that Nolan's wasn't "Comic book accurate", though he strove to make it as "real" as he could.

As with Man of Steel, there are a few issues with this film.

I will say that this film was a little too dark - but not to the extent that Man of Steel was a little too dark "for Superman." Given with what influences they took from the comics, the "extra" darkness makes sense, stylistically. It is still slightly jarring that our first look at this version of Batman has him at his worst. As in lowest, rock-bottom. Had we gotten a Zack Snyder solo Batman film BEFORE this, it may have made a bit more sense because of that. The film's opening sequence gives a very interesting 'alternate' point of view from the Superman vs Zod fight at the end of Man of Steel. His actions have consequences, and due to his power, may not be well-received.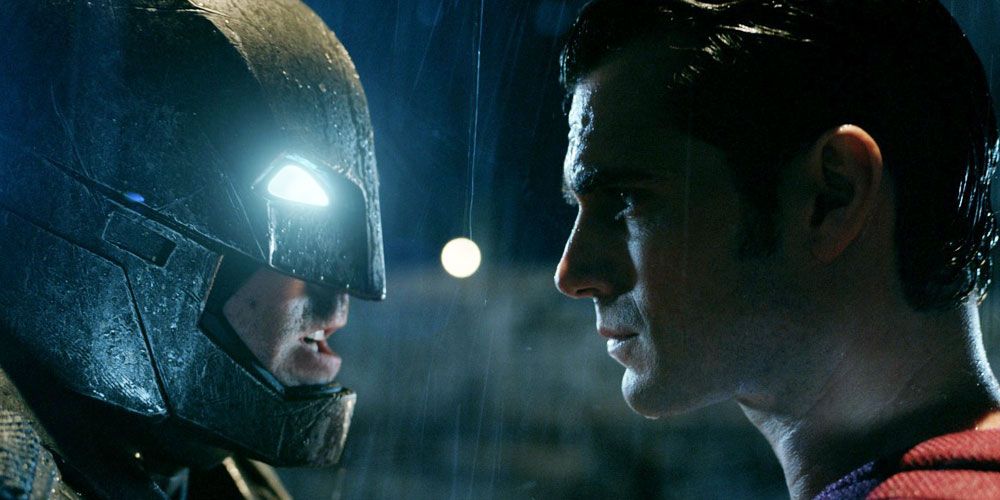 The biggest issue (there's one or two more to go into after this point) is this: Batman v Superman should have been TWO movies: Batman v Superman, which is about what leads to Superman and Batman fighting each other, and then you'd have Dawn of Justice which would be your 'lead-in' to a Justice League movie. Like Spider-Man 3, they tried to do a bit too much in one movie.

Have the first portion of the story be solely about what leads to Superman and Batman fighting each other, and WHY. That should've been done by how these characters feel towards one another, and nothing else. It may even be possible to do this without having Lex Luthor at all in the same film that has them fighting each other. THEY should be each other's villains for this film.




Now, for Dawn of Justice. THIS is the film where you would fit all the material consisting of having Wonder Woman show up, hinting at other heroes, as well as Lex Luthor being a Doctor Frankenstein type role - sure, the doctor may be to be to blame, though what HAPPENS is due to the monster's actions. All that should've been left out and saved for a future film. Ideally, I'd like to seen it go as such: Man of Steel, solo Batman movie, Batman v Superman, Dawn of Justice, then Justice League.

The other issue I had with this film, was the angle and direction they took with Lex. He's a little TOO off the rails, and at times a bit over the top. Something closer to what Michael Rosenbaum did with Lex on Smallville would've been MUCH better.

As a way to segway out of Batman v Superman and to conclude my thoughts on the film, I've got one more thing to say. As someone who likes film, I know that an alternate/different VERSION of a film can improve on it, or even save it. The two best examples I can think of that showcases this is the director's cut of Ben Affleck's Daredevil movie, and the director's cut of Kingdom of Heaven. Both of those have been drastically changed and edited from what was intended, to what the cinemas got. The theatrical versions were NOT good. Sure, The Lord of the Rings extended trilogy is magnificent compared to the theatrical edits; though IF there wasn't an extended trilogy, the theatrical edits are STILL really good movies.

So that's how an alternate version can save, or improve on a film. However, much like the extended Hobbit trilogy, the ultimate edition of Batman v Superman is not a "re-edit." it's an "extension." That means, the problems (and bad scenes) that those movies had are still there, though the extra content offers more context.

Now, with my thoughts on alternate versions of movies still fresh in mind, we finally move onto.....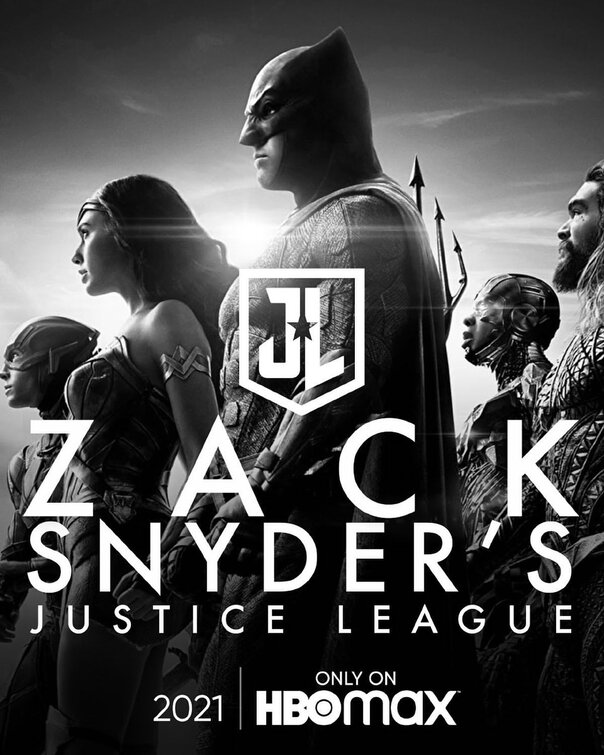 Zack Snyder's Justice League. The Justice League that actually released wasn't put together nor finished (in post production, that is) by Zack Snyder. He had to step away, due to his daughter's death. Joss Whedon was brought on to help finish up the film and take it from "footage that we filmed" to "coming next week at your cinema." He might've also taken it even further, by re-shooting parts(most) of it. I didn't follow the films' development too closely, so I'm a little unfamiliar with the finer details. However, he drastically changed the film from what Snyder had intended to the point where it was a totally different movie. Online, fans have been asking (either serious or joking, depending on context) for "them" to #ReleaseTheSnyderCut .

I'm glad that all those involved have LISTENED and are giving the fans what they wanted - the "Snyder Cut." As you can see from the poster above, it'll be debuting on HBO Max in 2021 (Crave, if you're Canadian, and however else you get HBO content if you live elsewhere.). If a physical edition will some day exist is still unclear (well, not known) at this point.

So I'm willing to give Zack Snyder's DC Universe another shot when HIS version of Justice League arrives. I also believe that if one marathons through Man of Steel, the ultimate (forget the theatrical edit even exists) edition of Batman v Superman, and Zack Snyder's Justice League, there will be an incredibly rich cohesiveness across all three.

And now to close....

Yes, I am willing to give the DC Universe another shot, but how about MOST people?? Do they care? It's unfortunate that DC has had a bad streak - the theatrical edit of Batman v Superman being terrible, as well as Lex being a bit....much ("The Red Capes are coming.....The Red Capes are coming!"), the fact that Suicide Squad transformed at least once during production, and that the Joker was utterly ruined and underused, and concluding in the poor reception of the Joss Whedon-finished Justice League.

Which is a shame - as a comic book fan, I WANT these films to be good. However, it just didn't happen. It is probably too late to maintain DC's and Snyder's original vision of the cinematic universe, however, hopefully, from the wreckage a gem will emerge in the form of Zack Synder's Justice Legue.

We'll see if enough people care by then.